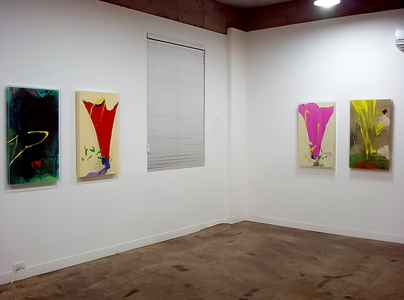 Life and art are found in one breath like inhalation and exhalation. Art Space Purl exhibition in March has invited artists, Kwon, Ki – Chul, who will unravel the landscape as tens of thousands of gestures felt at the journey of life.
Kwon, Ki -Chul's paintings seemed to be the body language releasing the world he had seen while traveling, which the torso brushed through a breath and a motion.
In this exhibition, his body language will be put on the meaningful exhibition which will show the creative process how combined it will come out, according to the way his torso, the reality of the everyday and the experiences of the trip stored.
The intent of this exhibition has an answer to the question of Art Space Purl, how it is combining the experience of the free travel made a long journey without a specific plan, with the pictorial language.
Kwon, Ki – Chul's theme is 'Combination Sense' in this exhibition. Because it is the question which presents the artistic and creative desire, and the process of the practice how the works appear as the result, that is, for embracing the answer.
How it goes that the torso remembering the daily life and the trip through a sensitive circuit is bound up everyday and art, and appreciates the layer above the body language which is filtered the before and after reality.
In exhibition, the object found in previous travel and patterns composed the way of aboriginal people through the recent trip to Australia traced Kwon, Ki – Chul's sense to his breathing torso. The body language combined with the sense to see and feel, is translated into the picture by the visual language. Experience, I wish, 'Combination Sense' which would make it art that the breathing inhalation would follow exhalation through Kwon, Ki – Chul's painting.
Art Space Purl Representative
Text : Kim Ok Real